Procedures for Admission
Please Complete the Admission Procedures at the "Center for Patient Support Admission Support Counter (B12)" on the First Floor of the First Building.
On the day of hospitalization, bring the necessary documents and visit the Center for Patient Support Admission Support Counter B12 (on the first floor of the First Building) between 8:30 AM and 5:15 PM (weekdays only). Be sure to complete the admission procedures before going to the Medical Ward. In case of hospitalization outside regular hours or for emergency, please visit the Center for Patient Support Admission/Discharge Support Counter between 8:30 AM and 5:15 PM on a weekday after hospitalization.
After the procedures for admission, you will be guided to the hospital ward.
Necessary Documents, Etc.
Written pledge for hospitalization
Protection of the Information of Your Hospitalization
Confirmation before Hospitalization
Hospital card
Health insurance card
Personal seal
Hospitalization Guide
Please bring the following documents only if you have any.

Eligibility Certificate for Ceiling-Amount Application
Nursing Care Insurance Certificate
Certificate of the Physically Disabled
Medical Beneficiary Certificate
Individual Payment Upper Limit Amount Management Table
Items to Bring upon Hospitalization
Please bring the following items. Daily necessities can also be purchased at our store.
Although you can bring your pajamas or sleepwear, we rent out hospital sleepwear (hospital gown).
Daily Necessities, Etc.
Toiletries (washbowl, soap, shampoo, toothbrush, shaver, comb, etc.)
Chopsticks, spoon, fork, chip-proof cup, etc.
Tissues, earphones, a towel, and a bath towel
Shoes (Do not bring slippers; they should cover your heels and have non-slippery rubber soles like gym shoes. Choose comfortable shoes you are used to wearing.)
Pajamas or sleepwear
Drinking water or tea (plastic bottle)
Patients Taking Medicines Dispensed at This Hospital or Other Hospitals
Prescription record book
Medicine information sheet (description of medicine name(s) and how to take it (them))
Medicines for one to two weeks (medicines prescribed at this hospital or other medical institutions)
Precautions
Please do not bring money, valuables, etc. into the hospital to prevent theft.
Please note that we will not be responsible for any thefts in the hospital.
Procedures for Discharge
For the benefit of the next patient to be hospitalized, you will be asked to leave the room by 9:30 AM.
the following is the basic discharge process after your doctor approves it:
Your doctor issues a "permission for discharge."

The Medical Affairs Division will give you the "Procedures for Hospital Discharge"
to let you know the expenses for hospitalization.

In some cases, for example if you are discharged on a holiday or weekend, we may not be able to give you instructions or billing information.

Please follow the hospital discharge procedures at Central Reception Discharge Counter No. 2.

Please pay at Central Reception Counter No. 7 or the automatic payment machine.
To pay by credit card, use the automatic payment machine.
Application for a Medical Certificate and Proof of Illness
Application During Hospitalization
Please contact the nurse's station of your ward. In principle, we will require approximately 3 weeks after discharge for preparation. If you receive a diagnostic report during your hospitalization, the fee will be added to your hospitalization expenses. If you receive such a document after discharge, you will be asked to pay the diagnostic report fee when you receive it.
Application After Discharge
Please apply at the counter which issues documents and certificates.
Parking Facilities
If you come to the hospital by car, the Shindai Byoin Chushajou parking service is open to all visitors for a fee.
From October 1, 2007, we issue a "parking service ticket" at the time of admission and discharge respectively, with which you can park one car for one hour for free (receive a ticket at the Center for Patient Support Hospital Admission Support Counter (B12) on the first floor of the First Building at the time of admission; and at the Central Reception Discharge Counter Number [2] at the time of discharge). Outside regular office hours (after 5:15 PM on weekdays or on Saturdays, Sundays, and holidays), this card is given to you at the emergency reception on the first floor of the Outpatient Building.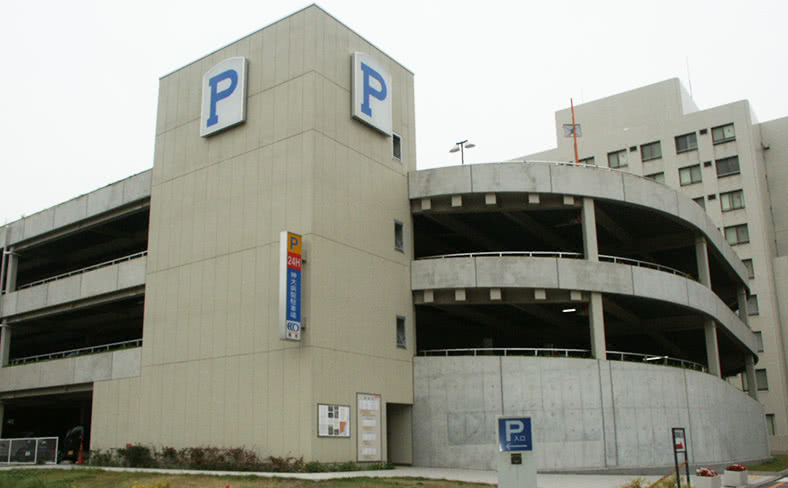 Notes for Hospitalization
[1] Name Band
While you are an inpatient at our hospital, you will be required to wear a patient I.D. band around your wrist.
the purpose of the name band is to "properly identify our patients" and "quickly confirm their name even in an unexpected incident outside the medical ward."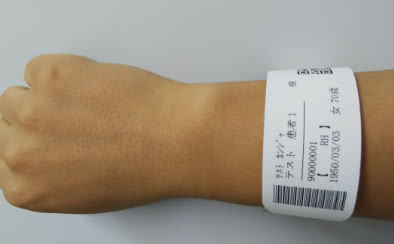 [2] Inside Hospital Rooms
Please do not post things on the wall, or drive nails, or hang laundry inside the hospital room.
As a means of ensuring the safety of patients in serious condition, we have special security video cameras set up inside some private rooms. Before we use these cameras, we will ask for written consent from the patient and/or their families
[3] Measures for the Prevention of Infectious Diseases
We take the utmost care to prevent infections in our hospital patients and our system is set up accordingly, but in certain cases, we may need to ask you to cooperate with room entry restrictions or isolation procedures.
[4] Use of Mobile Phones and Smartphones
Set your phone to silent mode. Talking on the phone is allowed in the lounge area.
Turn off the power in the prohibited area.
Wi-Fi is available in the First Building and the Center for Perinatal Care.
[5] Smoking
For treatment purposes, all inpatients are forbidden from smoking anywhere in the premises of the hospital.
If you smoke, please try your best to quit smoking before your admission.
[6] Accompaniment of Family Members
In general, we ask patient's family to refrain from accompanying the patient. However, if necessary based on the patients' condition and for other reasons, the physician may give permission to family members (limited to family members only).
In this case, please ask the ward nurse about the proper procedure for accompaniment.
[7] Emergency Exits/In-Hospital Facilities
Emergency exits are available in hospital rooms and hallways. these outside doors will not open except during emergencies. In case of earthquakes, fires, and other disasters, hospital personnel will instruct you where to go, so please wait for their instructions.
Patients should use elevators specifically for people on foot. there are also elevators specifically for wheelchairs and stretchers, etc.
the paper towels placed at the washstand in your room are for medical staff. Please refrain from using them.
there are pay phones on each floor (west side of the building).
[8] Other Information
Your doctor, nurse, etc. will provide an explanation about your illness and life during treatment.
Please do not hesitate to ask if you have any questions.
When someone calls the hospital to talk to you, we cannot call you to the phone.
Please do not speak loudly in your room or in the hallways. Do not engage in any behavior which disturbs other patients.
A patient will be discharged if the hospital director determines that his/her violent behavior, smoking, or alcohol drinking, etc. can significantly interfere with the management of the hospital.
Life During Hospitalization
How You Will Spend Your Hospital Stay
Bathing
Each floor has a bathroom and shower rooms. Bathing requires permission from a physician.
Nurse Call
the button is located around the pillow on your bed. Press the button when you would like to call a nurse.
Nurse Call[1]

Nurse Call[2]
Bed Curtains
To avoid delay in finding a patient in an emergency, please keep curtains open except when you need to change clothes, take examinations, or relieve yourself.
Lights On/Lights Out Time
the lights in patient rooms are turned on at 6 AM and turned off at 9 PM. When you use a reading light or head board lighting, please make sure to turn it off by 10 PM.
Going Out and Overnight Stays
In order to leave the hospital for a short period of time or overnight, you must first receive permission from your physician. there is a designated form to be filled, and please ask your doctor or nurse for a copy.
If you need to leave your medical ward, please be sure to let your nurse know.
Electrical Equipment
To watch TV or listen to the radio, please use earphones so as not to disturb other patients. Please refrain from using these devices past 10 PM.
Service Equipment
A prepaid TV card can be used to operate the TV and refrigerator in your room, as well as washing machines and drying machines in the laundromat on each floor. You can purchase a prepaid TV card at one of the TV card vending machines.
Coin-Operated Laundry Machines

TV Card Vending Machines
Bed Linen
We change bed sheets once a week.
Rental of Hospital Gowns
When you are admitted to the hospital, you can bring your own sleepwear, pajamas, etc., or rent a hospital gown (sleepwear designated by the hospital). If you wish to use it, please contact us at the reception upon admission. (*Paid)
Usage Fee
It costs 126 yen (including consumption tax) per day, which is not covered by insurance.
Washing and Replacement of Hospital Gowns
You do not need to wash them.
You will receive two or three hospital gowns a week (three from June to September and two from October to May).
If you bring in your sleepwear, you can wash them home, or you can use a laundromat (*charged) in the ward to wash them yourself.
Return of Hospital Gowns You Have Used
Please put them into the laundry box inside the bathing room.
Stop/Change of Use
Please ask our personnel at the staff station.
Meals
the following is information about meals and the timing of meals during your hospitalization.
Meal Times
Breakfast

7:30 to 8:00 AM

Lunch

11:40 AM to 12:30 PM

Evening meal

5:40 to 6:30 PM
Please try to eat your meal as soon as you receive it.
To avoid issues with food sanitation and to ensure the safety of your food, we will be collecting all meal trays 60 minutes after they are provided.
Menu
It will be prepared according to the patient's condition.
Example of a Regular Therapeutic Meal

Example of a Meal for Patients with Less Appetite
Special Menu
We can provide a special menu to patients who currently eat general hospital meals or "special therapeutic meals".
You can order the special meals using the touch panels in the medical ward. Please feel free to ask the staff about how to use the touch panel.
As per the Health Insurance Act there is an extra charge payable for each of these special meals.
Special Menu Example (1)

Special Menu Example (2)
Notes
Please do not share or exchange food with other patients since that could lead to problems in their treatment.
If you wish to change your meals or to discontinue them, there are time limits to the ordering process, so please notify us as far in advance as possible.
(Breakfast: by 4 PM one day before the meal, Lunch: by 10 AM on the day of the meal, Evening meal: by 3 PM on the day of the meal)
Please bring your own chopsticks and spoon (what you find most comfortable to use).
Hospitalization Costs
Cases When Your Consultation Is Considered an Outpatient Visit Even During Hospitalization
If you have consulted the Oral & Maxillofacial Surgery Department while hospitalized as a medical department patient (Any department other than Oral & Maxillofacial Surgery)
If you consult another department during dental hospitalization
In either of the above cases, that consultation will be considered outpatient treatment and you will be charged for it separately from your hospitalization costs. Hospital charges will be calculated for all patients according to the regular billing schedule and when you are being discharged. Please pay at those specified times.
If you happen to consult the Oral & Maxillofacial Surgery clinic on the day that you are discharged, calculations for those costs will be determined at a later date, so your charges for that visit will be charged to you after you are discharged. Please pay those charges when you next visit the hospital after you have been discharged.
Payment of Hospitalization Expenses
Basically, hospitalization expenses will be charged at the time of discharge. However, if you are hospitalized over multiple months, hospital charges will be calculated at the end of each month and you will be billed after the 10th. Please settle your bill by the due date, either at our designated bank, post office, convenient store (for amounts less than 300,000 yen), or at the automatic payment machine on the first floor of the Outpatient Building.
In order to prevent crowding, please try to complete your payment between the hours of 9:00 to 10:30 AM or from 1 to 4 PM on weekdays (Mondays through Fridays).
Payment Method
Please pay by either of the following:
Transfer from a designated bank, a post office, or a convenience store
Use the automatic payment machine on the first floor of the Outpatient Building

9:00 to 10:30 AM or 1:00 to 4:00 PM on weekdays (Monday to Friday)

Pay-later service
*Some patients may not be eligible to use it,
so please carefully read the information on the pay-later service and frequently asked questions before registering.

Please note that all procedures for the pay-later service are provided in Japanese only.
Cash Payment
Hours Automatic Payment Machines Are Available
9:00 AM to 4:00 PM (except holidays)

Beside Central Reception Counter No. 7, on the first floor of the Outpatient Building
Operation Hours of Counter No. 7
4:00 to 7:00 PM (except holidays)

Central Reception on the first floor of the Outpatient Building
Payment with Credit Cards
Payment Cards Accepted
Credit cards (VISA, Master, JCB, AMERICAN EXPRESS, DC, NICOS, UFJ Card, J-Debit, and Diners Club)
Debit cards (except a cash card issued by former Bank of Tokyo-Mitsubishi)
You will need to enter your PIN.
A card without an integrated circuit chip is not accepted by the automatic payment machine, so please pay at Counter No. 7.
Hours Automatic Payment Machines Are Available
9:00 AM to 4:00 PM (except holidays)

Beside Central Reception Counter No. 7, on the first floor of the Outpatient Building

9:00 AM to 8:00 PM

Under the escalator on the first floor of the Outpatient Building
You will need a hospital card or bar coded invoice for payment.
You can use a credit card only for a one-off payment of the entire bill (within the credit limit).
To check your credit limit, please contact the financial institution which issued the card.
As a general rule, please use a machine dedicated for card payments.