Patients reside in Japan and do not speak Japanese
 We ask patients to be referred by other medical institutions or clinics and bring a referral letter at their first visit. Patients without a referral letter will be required to wait for a long time. It is recommended to visit your nearest medical institutions or clinics to make an initial appointment based on the referral system.
 Moreover, as specified in hospital policy, foreign patients are required to take a medical interpreter with you to receive a consultation by the doctor. Please make an appointment with your interpreter before your first visit.
Patients who live in other nations and seek our advanced medical care
 Kobe University Hospital established an internal bureau, International Patient Reception Desk (IPRD) in International Clinical Cancer Research Center (ICCRC) due to provide international patients with comfortable medical care. Our definition of "International patients" is those who are non-Japanese and do not have effective public health insurances in Japan. Hence, "International patients" include those who would like to visit Kobe University Hospital from overseas to receive the advanced medical care.
 "International patients" are required to contact the medical support companies "coordinate companies" designated by Kobe University Hospital. We can introduce a medical interpreter (with a charge, reservation is necessary). Besides, please note that the medical fee for international patients is calculated 30 yen per medical point since October 10th of 2018.
 We examine patients' medical information given by the coordinate company to determine whether we can provide medical care or not. (The examination is not free. For more detail, please email us (

).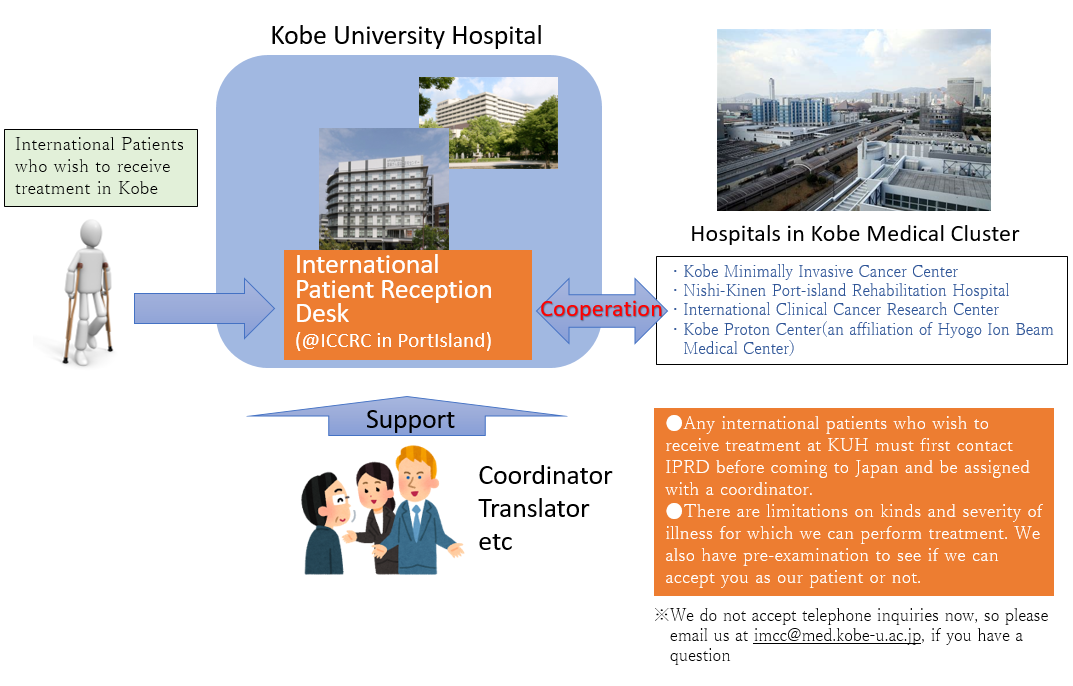 Departments and Centers
Kobe University Hospital

Internal Medicine
General Internal Medicine
Cardiovascular Medicine
Nephrology
Respiratory Medicine
Rheumatology and Clinical Immunology
Gastroenterology
Diabetes and Endocrinology
Neurology
Medical Oncology and Hematology
Hematology
Infectious Diseases
Internal-Related
Radiology
Radiation Oncology
Pediatrics
Dermatology
Neuropsychiatry
Palliative Medicine
Surgery
Gastrointestinal Surgery
Hepato-Biliary-Pancreatic Surgery
Breast Surgery
Cardiovascular Surgery
Thoracic Surgery
Pediatric Surgery
Surgery-Related
Orthopaedic Surgery
Physical Medicine and Rehabilitation
Neurosurgery
Ophthalmology
Otolaryngology-Head and Neck Surgery
Urology
Obstetrics and Gynecology
Plastic Surgery
Aesthetic Surgery
Anesthesiology and Pain Clinic
Oral & Maxillofacial Surgery
Diagnostic Pathology
Special Outpatient Clinics
Kampo Medicine
Department of Clinical Genetics
Emergency and Critical Care Medicine




Kobe University Hospital
International Clinical Cancer Research Center

Hepato-billiary-Pancreatic Surgery
Gastrointestinal Surgery
Thoracic Surgery
Breast Surgery
Urology
Otolaryngology-Head and Neck Surgery
Orthopaedic Surgery
Plastic Surgery
Anesthesiology
Gynecology
Pediatric Surgery
Gastroenterology



Primary target medical conditions and remedies: Click here
*All international patients cannot be accepted just anytime. Please ask us in detail via email.

Coordinate companies designated by Kobe university hospital
 As specified in hospital policy, application procedure can be made only by a medical coordinate companies not by patients. Those medical coordinate companies are registered guarantors and support international patients to obtain a medical visa. They also support all the necessary arrangements from your arrival in Japan to your return to your country. This includes air travel arrangements, and reservations of accommodations, as well as adjustment of the date of receiving medical care at the hospital, arrangement of interpreter, and carrying out payments on your behalf, and so on.
 Again, please note that all international patients who wish to receive our medical care need to sign up for one of the medical coordinate companies listed below.
Emergency Assistance Japan Co.Ltd.(EAJ)
| | |
| --- | --- |
| Telephone |  03-3811-8600 |
| Fax |  03-3811-8650 |
| Email | |
| HP | |
JTB Corp./Japan Medical&Health Tourism Center(JMHC)
| | |
| --- | --- |
| Telephone |  03-5290-1630 |
| Fax |  03-5290-1623 |
| Email | |
| HP | |
Medical Tourism Japan Co.,Ltd.(MTJ)
| | |
| --- | --- |
| Telephone |  011-865-8555 |
| Fax |  011-865-8666 |
| Email | |
| HP | |
WMW Japan Co.,Ltd.(WMW)
| | |
| --- | --- |
| Telephone |  03-6823-5505 |
| Email | |
| HP(Japanese) | |
| HP(Chinese) | |
Partner Link